Chunli's life is solitary.

Alone in New Zealand, unbeaten in table tennis. Alone at home, with a bare fridge. Alone in her living room, apart from the table, where she trains, and trains, and trains. Then alone and afraid during Covid, under the 2020 lockdown.

When she was young, Chunli's heart told her to follow her sport, passing by romance or forming a family.

Nearing 60, she clings to a hope of winning Olympic gold.
Directed by Jenny Gao
Production: Mia Maramara
Cinematography: Tim Lambourne, Daryl Wong
Editor: Jack Woon
Sound: Joey Siasoco
Additional camera: Ollie Logan, Jenny Gao
Aerial Cinematography: Petra Leary
Production Assistants: Bianca Samson, Lu Zheng Wei, Martin Paris
Colourist: Julian Dyson
Production: Loading Docs (Julia Parnell, Juliette Veber, Anna Jackson, Christopher Connolly)
Post-production: Department of Post (Mark Taylor, Lauren Carr, Joss Hardman, Luana Barnes)
Special Thanks: YMCA Lagoon Stadium Leisure Centre, Chunli's Table Tennis Club, Klim Type Foundry, Roseanne Liang, Hweiling Ow & Peter Haynes, Angie Guo, Adrian Lancashire
Archive: Chunli Li, TVNZ (Getty Images), NZ Olympic Committee
"Chunli is unstoppable.
She will always need a goal to strive towards.
It's what she gets up in the morning for. 
It's as simple and as difficult as that."
Could you please introduce yourself?


Kia ora! I'm Jenny Gao, a photographer and documentarian raised and based in Auckland, New Zealand. I adore stories that bring out intimate yet universal appeal from bold characters. People who subvert expectations — colourful, complex, lovable.

Before the pandemic, I was a flighty creative who hopped from freelance user experience design to content creation for tourism boards to enable years of travel. Ultimately, I wanted to return home and make films with something fresh to say. Film is such an all-encompassing medium! I've been so lucky to arrive at an art form that finally lets me piece together all my creative disciplines into one giant kaleidoscope.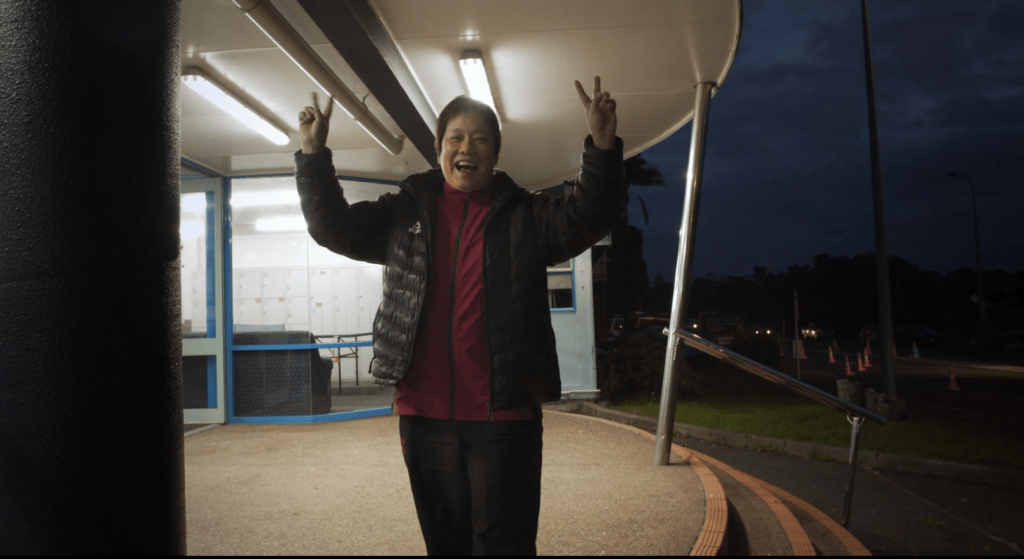 How did you meet Chunli and how did this project start?

 
She trains my cousin, so my uncle casually brought up, over family dinner, that she intended to go for gold in the Tokyo 2020 Olympics. She's an icon within the Kiwi-Asian community, so that announcement was met with surprise.


"Still? She's so old," was my grandpa's reaction. The contention around how relevant her age was to her sport around the dinner table made it clear we had a powerful story on our hands.
Chunli seems to be very lonely. Lonely, in a country where she's never had a rival in table tennis. Lonely at home, afraid of burglars, lonely facing her future. This feeling of loneliness appears accentuated by the lockdown.

 
New Zealand's first lockdown was the first time Chunli had ever taken that long of a break from table tennis. It's funny — I spent a lot of time asking her about her loneliness, from multiple angles, often bluntly. She always replied quite cheerfully, either due to never giving it much thought or putting it on for the camera, you decide.

She went through all the lockdown motions: an initial novelty, the boredom, the personal epiphanies, the cabin fever. As an Olympic athlete, she's an extreme example, but she represents all of us in the age of pandemic-caused isolation. Boxed in and glued to devices.
"We got screwed over big time by the pandemic.
We had to do a complete pivot."

It seems unlikely for Chunli to go to the Games considering her age. Is that simply a dream?


 
Chunli's athletic ambitions have always been 'simple' in that they are tangible: world championships, gold medals, awards. They're symbols of her ageless spirit, shiny proof that she is unstoppable. I think she will always need a goal to strive towards. It's all she's known, and it's what she gets up in the morning for, and it's as simple and as difficult as that.
Chunli talks about her past and the choice she had to make, between her career and a potential love/family life. Couldn't she have both? Would you call it a radical choice?


 
This was the hardest aspect for me to personally grasp as I live and love in shades of grey. I didn't understand why her choices had to be binary, but that's me yearning from a place of greed. The 2021 girl wants both a flourishing career and a family eventually and I'm no different. Underpinning my obsession with Chunli's life decisions is my anxiety about my own.


I wanted to believe that she could've won championships and had a partner/kids, but much like art, sport can be all-consuming. Chunli's identity is table tennis. It would've been radical for her to have chosen anything else.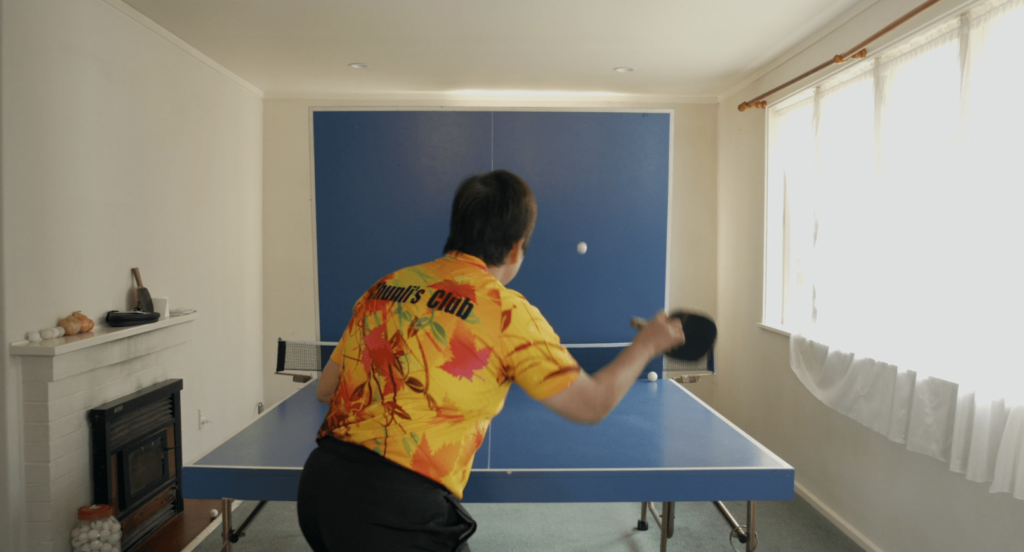 This film is part of Loading Docs, a series of short docs from New Zealand.What does Chunli's story say about New Zealand today?


 
New Zealand is one of the most livable countries in the world, but our glossy image masks an increasing wealth disparity, systemic prejudice and casual, blatant racism.

It's near impossible to get funding in niche sports unless it's what white New Zealanders care about — and that's rugby, cricket and netball.
Could you tell us how the shooting went, considering the pandemic?
How did it impact your project?

 
We got screwed over big time by the pandemic because the original plotline was documenting Chunli's qualification match for the Tokyo Olympics. When that got postponed, we had to do a complete pivot. We shot between lockdowns with masks and two metres of social distancing. It allowed us to get creative with composition, to heighten her sense of isolation, but I'd set out to push the stylistic status quo of traditional documentary.

My director of photography and I had a whole funky music video/doco hybrid planned. What we got, in the end, was an intimate, heartfelt character study instead. But my dreams of dynamic visuals and rich colours lives on, and will hopefully be actualized in the next project.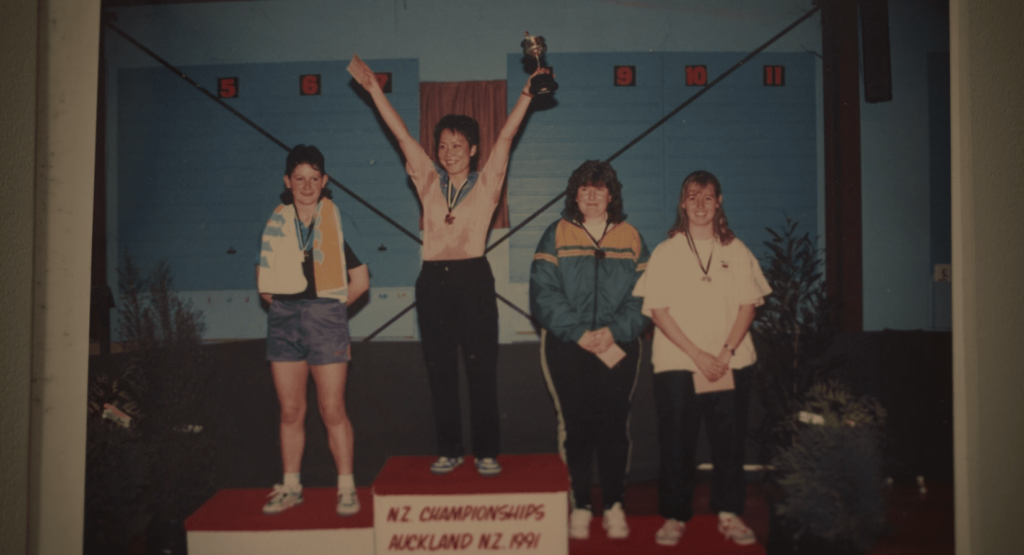 What are you working on now?


 
I'm directing a coming-of-age documentary series about a group of 'It' kids, for TV. The ensemble cast includes a model, a food blogger, a fashion designer, and a musician — living, loving, thriving, stumbling, all in front of a digital audience.

Think Skins meets Euphoria, New Zealand style. I'm so excited about it. They're crazy — and crazy talented. It's going to be so much fun, and I can't wait for the world to see how we run things Down Under.
A word about 99 and the multilingual subtitling of your film?


 
It's an honour to be featured on 99 and to have Table for One translated into so many languages! The spirit of this short doc is to show that the power of character and emotional connection can transcend language and culture. I hope people can see themselves in Chunli, and fall in love with her and her big heart.