Who has not dreamt of finding a diamond? Of finding it, right there, sparkling in the palm of their hand?

In Arkansas, there's a 'free-for-all' mine – the only one of its kind – where everyone's welcome to dream. $13 is all it takes for the Crater of Diamonds to be yours for the day. The site straddles an area of around 15 hectares – roughly equal to 21 football pitches. You're welcome to sit where you like…and dig. Should you hit upon a diamond, it's finders keepers.

Dozens of people flock to try their hand, knee-deep in mud, come heatwave, hail or high water.

But as we dig, where do our minds wander? More often than an improbable fortune, it's ghosts of the past that are unearthed.
Directed by Caitlyn Greene
Photography: Nick Perron-Siegel
Editing: Caitlyn Greene, Dillon Hayes
Sound: Calvin Pia
Music: Jeff Melanson
Color Grading: RCO, Seth Ricart, Derrick Yuen, Sheina Dao
Production: Eric Maierson, Andrew Hutcheson
"
A public dirt field in Arkansas full of diamonds and people from all walks of life on their own quests?

I was in."
Tell us about yourself, Caitlyn.

I'm an Emmy Award-winning filmmaker from the American South. This film, The Diamond, is my most recent short documentary, and was acquired by The New Yorker after premiering at Camden International Film Festival where it won CIFF's Vimeo Staff Pick Award. Previous short films have screened at festivals around the world and taken home several jury awards along with Vimeo Staff Picks' Best of the Year. I've also directed work for brands including YouTube, Facebook, and Mercedes-Benz.
I received a Primetime Emmy and an ACE Eddie Award for my editing on The Jinx, HBO's Peabody Award-winning documentary series. Other editing projects include the cinéma vérité documentary feature When Lambs Become Lions [a film by Jon Kasbe, the director of Blood Rider], for which I was awarded Best Editing at Tribeca Film Festival and nominated for an IDA Documentary Award; as well as FX's documentary series A Wilderness of Error, from Marc Smerling (The Jinx) and Errol Morris.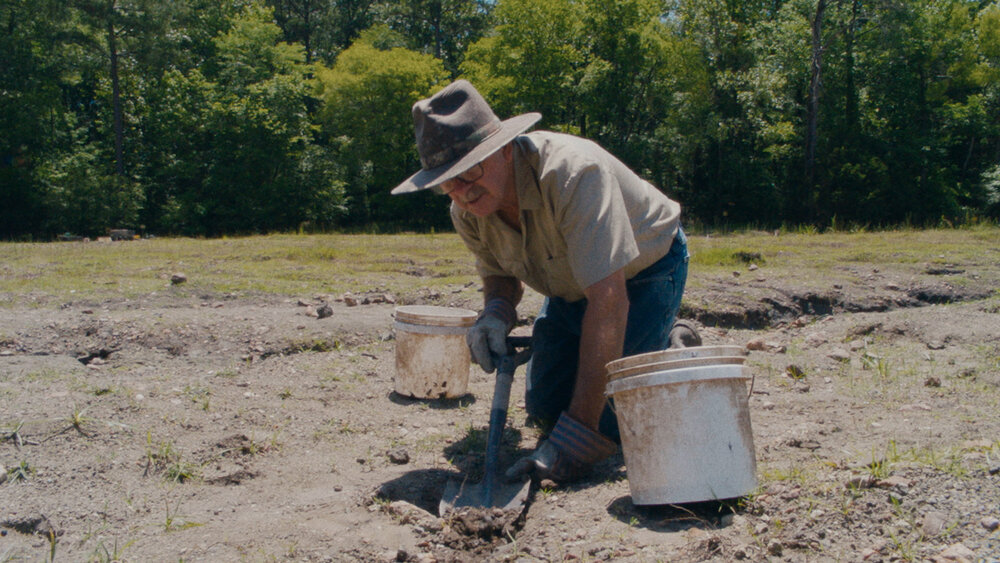 How was this project born?

I stumbled across an article online about the Crater of Diamonds State Park, the field where the film takes place. I was immediately hooked. A public dirt field in Arkansas full of diamonds and people from all walks of life on their own quests? I was in.

I have a real soft spot for roadside Americana and the American South, where I was born and raised. But more than that, the metaphor of the place resonated with me. I was curious who I'd find in the field, what led them there, and what they'd find.
"
I wanted the film to stay contained to the field, and for it to feel disconnected from time and place — almost suspended in time."
Can you tell us about your approach on the spot?

For six days one May, the DP Nick Perron-Siegel and I visited the field from open until close, walked around, and approached people we were drawn to. I interviewed probably twice the number of people who appear in the film. Most people there were passing through, so the interview was our only encounter.

If people were open to speaking with us, we sat down, filmed and talked with them for a couple of hours, and that was it. It was the blind date version of an interview. Having the activity of digging in the dirt – and giving a lot of time and space – went a long way.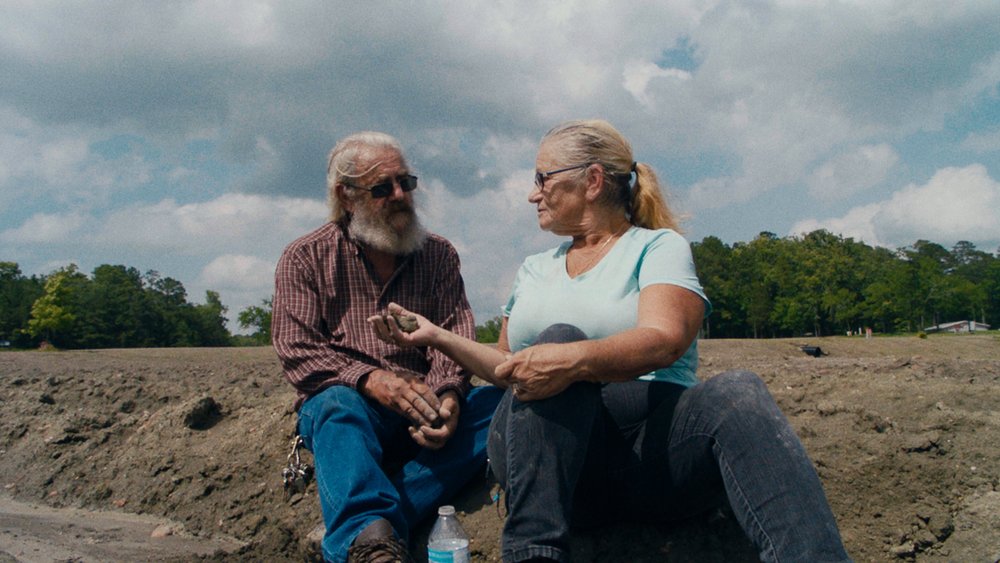 You film diamond diggers at their height, feet in the mud. You also use a lot of zooms, which is not common, including a very beautiful one that allows viewers to realise at a glance that the mining site is actually huge. Tell us about your visual choices.

I knew I wanted the film to stay contained to the field, and for it to feel disconnected from time and place — almost suspended in time, separate from the daily lives people were reflecting on. That was our starting point.

The shot choices, the lensing, the colour grade — all stemmed from that. The zooms recalled a nostalgic style for us, but they were also a way of building a language for the film as we moved around a single, open space and between intimate conversations and strangers.
Your film is imbued with great softness. We can feel nature close by, we can hear the wind in the trees, birds singing. Tell us about your approach to sound and music.

I love that way of putting it. I certainly feel that in the score — I think partially from the instrumentation and technique composer Jeff Melanson uses. We wanted the world of the field to come through strongly in the sound, especially since the field itself is not the most visually dynamic space. Yet there is a sense of connection to the earth beneath and beyond – everyone there is interacting with it directly. We tried to bring that to life in the sound.
"Editing is a great way to study film language and grammar up close."
As you said earlier, you are a director but also an editor. How does this influence the way you work as a director? Do you have a more "technical" approach while shooting, do you anticipate more what you think will be necessary during editing?

I think editing is a great way to study film language and grammar up close. Of course, it helps in knowing what is needed technically to make an edit work, but more than that, in building a language for the film, and concrete ideas of how those elements might be used structurally or narratively.


In the case of this film, that led to visual choices like the zooms you mention. I didn't know exactly how we would end up using those when we shot them, but I had a sense of the language we were building, and we then had the opportunity to be intentional with that language in the edit.
What are your current projects?

I'm working on a character-driven documentary feature in Louisiana about the Mississippi River and the control of nature.
A word about 99 and adapting your film in several languages?

I'm very grateful for the translation and the support to make films more accessible. I hope there are universal moments of humanity and emotion in the film that will appeal to speakers of any language.